Hi, my name is Jamie.
If you want a top quality boiler at an affordable price & fitted by an engineer you can trust, then you're in the right place! Of course we all like a bit of proof, so check out what people are saying about me in my latest google reviews further down this page.
Why Should You Call Me Today?…
I Fit Domestic Boilers in Your Home & Also Commercial
I've Repaired & Installed Gas Combi Boilers for 15 yrs
Affordable Cost – Gas Boiler Supply & Fit from £850
FINANCE on New Central Heating or Boiler Installs – From £18.46/month
Your Gas Heating Boiler comes with a 7 or 10 & even 16yr Warranty
I start on time and don't leave until the job is finished properly
I'm a tidy worker and will keep your place as clean as I found it after my job is done.
You can always contact me before or after your Boiler Install and I'm happy to return to service your New Boiler when the time comes.
I want to talk to you about boilers, I enjoy it! 🙂 – So FEEL FREE to CALL and Ask Me Anything You Want
Get a Quote, Free Advice, or Ask Any Question…


Call me Now on: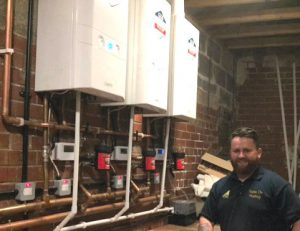 Which Gas Boiler Should You Choose?
A few of my customers have an old copper hot water cylinder & gas system boiler in their home and sometimes your system isn't suited to remove the hot water cylinder and swap over to a combi boiler, so I do sometimes supply & fit new gas system boilers.
Normally you have either an old system that can be upgraded, or your old boiler is already a gas combination (combi) boiler that supplies hot water and central heating directly from 1 boiler.
I'm an approved installer for 5 manufacturers BUT most of my clients choose Worcester, Vaillant or Ideal gas combi boilers.
I've been repairing gas heating & boilers for many years so when I'm quoting to install one, I also think about maintenance and repair long term rather than just the installation. To be honest I seem to repair a lot of Worcester gas combi boiler's these days.
The old Worcester's from 20 years ago were excellent but I think the newer makes and models have gone down hill in recent years. Worcester are partly owned by British Gas so have a lot of money behind them for brand marketing, but I think other boilers have improved and over-taken Worcester in both quality & design. In particular the way the new Worcester compacts are designed is poor & they also cost several hundred pounds more for what is an average boiler.
Of course I'll fit the exact boiler you tell me you want, but I often recommend Ideal boilers, simply because they are super reliable and good value for your money.
Many years ago Ideal made a model of gas combi boiler that gave them a poorer reputation and it takes a long time to shake off a bad rep. But in reality they began making a new boiler 6 yrs ago which is exceptional, plus they've tweaked it and upgraded it since it's first production. I can put a 10 yr warranty on the Ideal Logic Plus boiler or a 16 yr warranty on the Ideal Vogue boiler which is pretty amazing. Zero risk of repair costs for 16 yrs! As far as I know you can't get anywhere near a 16 yr warranty on any other boiler and this speaks volumes for the quality and reliability of the Ideal boilers.
Customer service in my experience from Worcester and Ideal is excellent so there's nothing between them on that score, and they both manufacture only highly energy efficient boilers these days.
My Google Reviews
Pam Hesketh
23:52 14 Jan 20
Akeel has done a brilliant job, arrived on time and left no mess, he didn't try to push me into buying new radiators like other firms do and was the cheapest quote I'd had and what was quoted was what I paid I'm so happy with my new boiler
Pete Yasities
18:52 18 Dec 19
Excellent service. Reliable, hard working and genuine. Jamie and his colleague Vince attended our home to fit a much needed new boiler. They stayed until they completed the job and our home was warm and cosy when they left. The standard of work was excellent and they respected our home and left it super tidy. Thank you very much. Would highly recommend.
MysticalNomad .
22:23 05 Dec 19
Jamie came out to give me an estimate and was very informative and genuine. It was a no-brainer to go with Flame On.My heating and hot water was a mess and everything was expertly taken care of. Even the unforeseen issues were overcome with a dedication and perseverance I've never seen before. It was very impressive work at a very reason price and no hidden extra costs.Very professional work, extremely polite and friendly. An all round outstanding service.Thank you for bringing warmth

back into my life before Christmas!

read more
E Popa
20:08 27 Nov 19
Jamie replaced my old boiler with a new one recently and he did a great job on that. Unfortunately few weeks later the boiler started losing pressure on a daily basis. Jamie came out to ensure this wasn't due to any installation issues. We agreed that this didn't seem to be the case and he felt there might be a small leak in the system somewhere but there was no evidence of this in my flat....Until my neighbor below me told me they had a damp patch on their ceiling.... 🙁 Jamie came back

promptly and had to dig up my concrete floor to locate the leak, which fortunately he was able to fix for me. It was a messy job for him but he was so patient and after few hours my flat was leak free and the boiler went back to its normal functioning. Jamie is so humble, polite and professional, I've been extremely impressed with his overall work. I couldn't have been more surprised when he didn't charge me anything for locating and fixing the leak!!! And his initial price for installing the boiler was very competitive! I highly recommend Jamie, and I couldn't have been happier with his work!

read more
Claire Bannister
20:02 18 Sep 19
If your browsing because you want a new boiler and your reading this then please choose this company. Or repairs or service. I went off the reviews and the moment I met Jamie to get a quote I knew this company wasn't trying to bleed me out of money. They are honest and normal and won't beat around any Bush. Jamie is so polite. They did a amazing job and I couldn't be happier with the service the cost everything. Thanks so much guys highly recommend
Pam Hesketh
14:57 23 Aug 19
Akeel has done a brilliant job, arrived on time and left no mess, he didn't try to push me into buying new radiators like other firms do and was the cheapest quote I'd had and what was quoted was what I paid I'm so happy with my new boiler
Pam Hesketh
14:57 23 Aug 19
Akeel has done a brilliant job, arrived on time and left no mess, he didn't try to push me into buying new radiators like other firms do and was the cheapest quote I'd had and what was quoted was what I paid I'm so happy with my new boiler
Lynsey M
22:07 30 Jul 19
I am absolutely ecstatic with the boiler Jamie and Akeel fitted for me this week. They're both absolutely amazing and I only wish I'd discovered them a long time ago! Honest, professional, diligent (... & also extremely humble). Poor Jamie had been here all day (in poor working conditions) and despite it approaching rush hour I couldn't get him to make his way home, as he was committed to tidying up for me. As conveyed at the time - you're a miracle in the industry (especially after the many

conversations I've had with other gas engineers recently - I had totally lost all hope). Again, a massive thank you to you both - oh and don't work too hard!

read more
Michelle W
10:16 24 Jul 19
Jamie did an amazing job on fixing my new boiler. He explained everything in detail, although it didn't make much sense to me he felt that it was his job in telling me about the installation. After he and his colleagues had completed it they found a problem with the pipes, a problem that they had never come across before and he wasn't happy that the job wasn't perfect. After spending a while and working longer than expected to find the problem, we agreed that he would come back and fix it on

another day. He came back as promised and fixed the problem. I would recommend the company to everybody. I am finally happy and settled with my new boiler. Thank you Jamie

read more
Farrukh Majid
18:13 15 Jul 19
Thanks to akeel from flame on boilers fitted me a brand new boiler. Turned up dead on time didn't waste any time just got stuck in to fitting the boiler. Very professional job done explained what he was doing. Done all the safety checks told me all about the controls and settings cleaned up after he was done the price quoted was the price I paid no hidden charges. Definitely recommend them will be using them again for any other heating issues Big thanks
Gone Yij
08:17 23 Apr 19
Jamie quoted me for a boiler replacement on 2nd April, the information & advice he gave me together with the price meant he was given the job. He fitted an Idead boiler & added a new radiator for the price he quoted on 15th April. Very pleased with the works carried out, a neat & tidy job, professionally carried out. I would not hesitate to recommend Jamie. He has also been given the yearly service check for the boiler.
craig wright
11:26 15 Apr 19
Great from start to finish, had a few issues with my very old boiler, so initially phoned Jamie to discuss, he didnt try and sell me a new boiler, he suggested using my boiler until it failed as it was so old, rather than a repair, after a few days it did fail, so I called Jamie to organise a replacement boiler, he came on the day that suited me as well. The work was superb, he was very polite, answered any questions that I had, nothing was too much trouble, when leaving Jamie left behind an

empty box he had forgot to load in the van, he drove all the way back from Huddersfield to Oldham to pick it up. I cannot recommend Jamie and his colleague enough. My neighbour was that impressed he is having a new boiler fitted as well. Thanks again.

read more
Tom
20:12 06 Feb 19
How refreshing; a professional who takes pride in his work, communicates well, delivers on time and quoted far less than anybody else. I'm now toasty warm with my new boiler, happy days 🙂
Ranga R7
17:25 30 Jan 19
I can honestly say Jamie and his colleague were 2 of the best gas engineers I had the pleasure doing business with. I had a full boiler replacement from system's to combi. He provided his honest opinion with no pressure and gave me the best quote.The completed job was top class and they cleaned up everything afterwards. Highly recommended.
Michael Wignall
12:49 25 Jan 19
New boiler installation - great service, good price, excellent communication, and very quick too. Highly recommended.
Martynas Poskus
11:24 26 Nov 18
Excellent and highly professional service. Jamie came and installed new boiler in no time, providing clear information throughout the process. No mess was made. Everything was done to a highly professional standard. I would absolutely recommend.
BRIAN JACKSON
11:47 22 Nov 18
Thanks a lot Jamie, You are your colleague were a breath of fresh air in helping me with my problem boiler. You turned up on time and assessed the situation and clearly explained what was wrong with my boiler. You also explained the all the alternatives in putting the situation right. We decided that the best answer was to replace the problem boiler and the price you gave was virtually half of other quotations I had received. Having agreed the price you then said you could do the

replacement the next day and the new boiler would have a 10 year guarantee. And true to your word you and you colleague turned up as promised and did exactly that. The quality and neatness of your work was was excellent and everything is working beautifully. You also removed the old boiler and bits and pieces and left the site a lot cleaner and tidier then when you arrived. All in all a great job, and I would recommend you wholeheartedly. Brian Jackson

read more
P Harland
17:42 14 Nov 18
Prompt, friendly and knowledgeable. Work completed on quote (detailed breakdown) without fuss to a high standard. Will definitely call for future work. Cheers James!
Dani Robert
17:46 03 Jul 18
Excellent service, Jamie and his colleagues are the best if you need a trustworthy, quick and reliable company to do your gas/boiler work on a really great price. Wouldn't recommend him enough. I'm normally not giving any tips for handymen but when they finished and cleaned up everything I just felt they absolutely deserve it.
Chloe Mower
19:14 14 Sep 17
EXCELLENT tradesman! Really cannot recommend highly enough. Trustworthy, genuine chap who is brilliant value and thoroughly enjoys his work. Thank you Jamie for getting us ready for a cold winter!
Anisa Hussain
19:55 06 Apr 17
A very professional and reliable company. They came did the job, cleaned up after themselves and didn't stand around drinking cups of tea. Flame On was much cheaper than the other quotes I got and the work was finished to a high standard. Brilliant service, I would definitely recommend these guys to family and friends
Sam Lam
19:13 05 Apr 17
When Jamie first came to give us a quote of all the work we needed doing we trusted him straight away. He explained what would be not only be the cheapest but also the most practical/easiest solution to solve our problems. Let me explain more, we only bought our house less than 6 months ago and from first sight we thought it was our dream house until we experienced leaking and low pressure water in our bathroom so we couldn't really use the shower/bath properly and caused us so many issues.

Jamie gave us options to suit our budget but all in all we wanted the best solution that'll last us even though it'll cost us more at first. I can't tell you how amazing Jamie and his team (sorry I didn't catch your name) was and so helpful and clean/tidy - even his dust sheets smelled like fresh washing. We needed to change our boiler over to a combi system and they worked so hard to get it done as early as they could.Not only are they trustworthy people and that's hard to find these days with so many rogue tradesmen out there. They're friendly and understanding of each clients needs and budget. No question went unanswered and as first time home owners there's a lot of things we don't know so nothing seemed like a silly question. Everything was explained clearly and easy to understand. Jamie gave us real honest advice and that's what's invaluable in his services. I honestly can't recommend them enough. I even started asking them what other jobs and things they can do for us! I will be shouting about Flame on Boilers from here on out.Thank you Jamie and your team for restoring my bathroom/boiler/heating and allowing me to have blissful stressfree showers and relaxing baths!

read more
Tom Norton
16:34 04 Jun 16
Jamie and his team were incredibly knowledgable when they came to look at my boiler. An initial service turned into more work due to faults with the boiler but they were very thorough in explaining what was wrong and what needs to be done to fix it. They also showed me the perished parts that had been replaced and told me which bits were causing the problems. It was reassuring and I felt that I wasn't being blagged into more work just to get money. They were very honest about the work needed.

They were very honest about the prices too and even reduced the price when the parts came in under estimate. They also did a great job of sourcing a rare part by ringing lots of suppliers to ensure the job was done that day. They did the job quickly and with minimal disruption to the heating and water. Thanks for the work guys and fingers crossed I don't need to see you for anything else too soon 🙂

read more
Fusion Housing
09:29 18 May 16
Called them for a gas cooker fitting - appointment was arranged at our convenience and was fitted as agreed and on time. Reasonable costings also - will use this company again if needed.
Nicki Boothman
22:15 13 Mar 16
Jamie has done a few jobs for me, from fixing leaking pipes to a full boiler replacement. He's great at his job and competitively priced, but more importantly he's very helpful, friendly, flexible, hard working and always there to answer any questions.
Taybah Ilahi
19:35 10 Jan 16
Jamie helped me by carrying out annual landlords safety inspections and repairs on boilers and cookers in a couple of properties for me. He is really reliable which is great as I am away a lot and I know that I can trust him to get on with it. In one case I had an emergency and Jamie came to the rescue again by attending promptly and sorting the issue out immediately. Overall Jamie has provided me with an excellent service.
See All Reviews
Get a Quote, Free Advice, or Ask Any Question…


Call me Now on: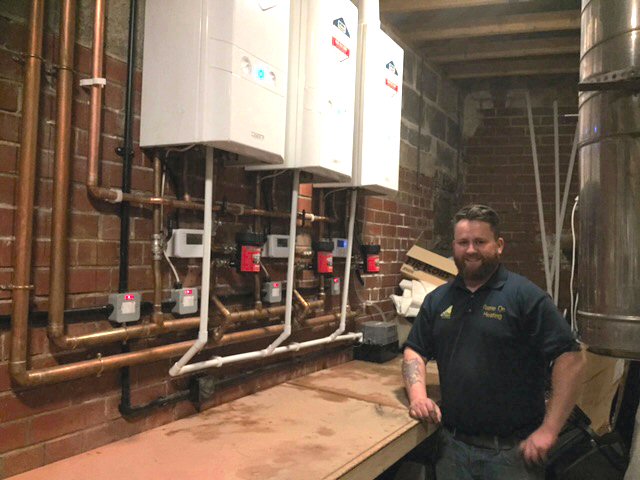 Get a Quote, Free Advice, or Ask Any Question…


Call me Now on: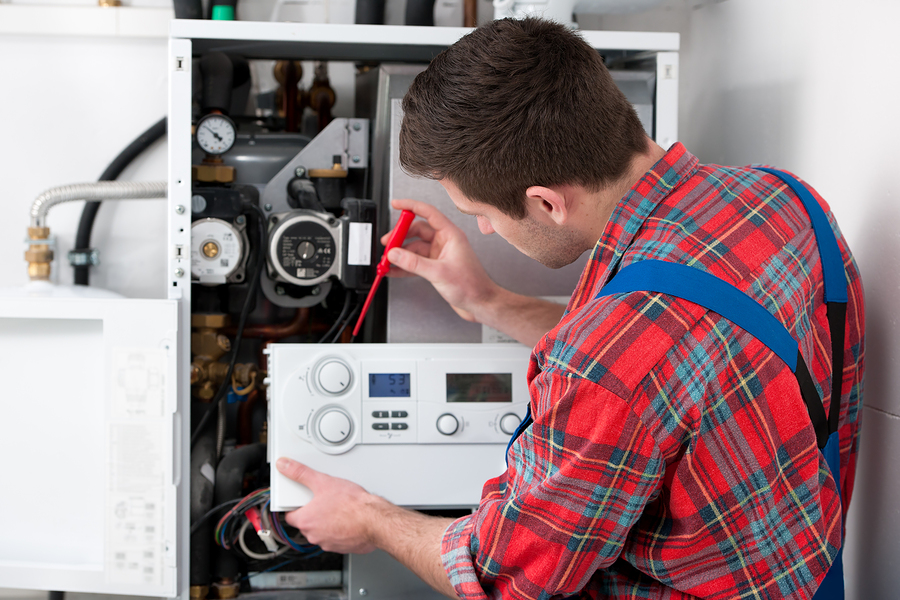 When you contact a company for boiler installation in Manchester, one of the first things you will agree with them is what type of boiler you want. Most companies will carry a range of appliances so that you can find the perfect one to match your budget, lifestyle and type of property. However, you may also want to upgrade your system controls.
Improving your controls will have a number of benefits. Firstly, it will be much easier to maintain a comfortable temperature in your home. It can also help you to make savings on your heating bill, since the system will only run when it is really needed. Here are some of the controls you might consider including.
A Timer Control System
Most new systems come with a separate control which operates on a timer basis. This is very useful because you can set the heating to be off during the day, while there is nobody home, and to turn on an hour before occupants are due home. The majority of timers allow you to set the controls for three separate times during the day, and some will allow you to vary the times according to the day of the week.
The timer controls will also contain a thermostat, so that the heating will switch off when the room reaches a comfortable temperature. These are commonly fitted in a hallway, where they are the least obtrusive. However, it is better to have the controls installed in your main living area. This is because hallways tend to be cooler than your living space, and your heating system may therefore turn on when it is not really needed.
Cylinder Thermostats
This type of thermostat can be fitted to hot water tanks to save you energy. Older tanks tend to fire up at a set time each day, regardless of whether hot water is needed. This can be inefficient, because it takes a great deal of energy to fire up the system and heat the water.
A cylinder thermostat will be programmed to approximately sixty degrees Celsius, and can sense if the water is already heated to the required temperature. Consequently, the tank will not come on if the hot water has not already been used that day.
Thermostatic Valves
Thermostatic valves are fitted to the radiator itself and allow the homeowner to determine the best temperature on a room-by-room basis. If a room has multiple radiators, each valve should be set to the same value.
The values range from one to six, with a three representing a temperature of around eighteen to twenty degrees. If the room is already at this temperature or higher, the valve will sense this and the radiator will start to cool. You can adjust the value to be higher or lower if the room feels too hot or too cold.
A new boiler can be a worthwhile addition to a home. If you are looking for boiler installation in Manchester, a company representative can talk you through the options which will save you money on your energy bills.